Happy 70th on the Shallows
Posted: 11th May 2018
Early April saw us celebrating 70 years of successful propagation on the Shallows site.  Having moved on from "PYO strawberries" in the 1950's, tomato production, pig fattening (700 pigs on site by 1964!) and then plants, the "shallows" have witnessed successful cultivation and employment over the years.  Now with the glasshouse and its constantly changing and extensive display of plants, shrubs, grasses and conifers, it was time to celebrate.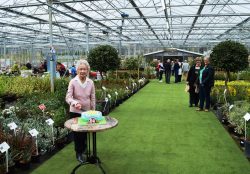 Shallowmead's much loved matriarch Mabel, now in her 93rd year, kicked off the proceedings by cutting the 70th birthday cake.  Such an integral part of the Shallowmead's family, she loves coming in regularly to plant seeds and help with cuttings.
Thank you to Anita Ellen Thomas Celebration Cakes for making the delicious cake and over 100 cupcakes, many of which were sold in Mabel's café over the celebration weekend.  In the week that followed, a couple of our glasshouse team donated half the remaining cupcakes to Oakhaven Hospice and the rest to staff and patients of Wilverley and Longbeech wards at Lymington Hospital.
With the huge array of planting in the glasshouse and very welcome attendance from New Forest Marque stall holders; Waterside Apiaries, Busy Bee Products , The Appetite Kitchen, Real Food and Hampshire artist Sandra Binney displaying her stunning local work, there was plenty for visitors to peruse.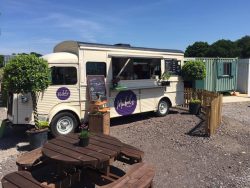 Mabel's Vintage Van was back in action selling New Forest Ice creams to cool everyone down as they meandered around the recently completed landscaped gardens.
There were so many lovely comments from visitors during the weekend, with one remarking "the plants are such great quality" and another "it's the poshest nursery I've ever been to!"
Thank you to all our staff for working tirelessly throughout the year to make sure our own grown plants are the highest of quality.  We're proud of our propagation standards and we couldn't do it without the skill and dedication of the Shallowmead's team.
So, we're all set for summer and look forward to bursts of colour as different species come into bloom over the coming months.