New extension
Posted: 25th January 2022
The new extension of the propagation unit is now complete and up and running – are are already well into production of all your plants for 2022 and this new unit means we will be able to offer more than ever before.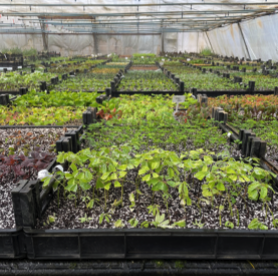 We have been busy planning the ranges for this year and adapting them following feedback from all our customers. There will be lots of lovely new plant ideas coming through as well as new varieties and the basics that we know you all love.
At the moment we are propagating dwarf conifers for your pots, planters, rockeries and gardens along with hedging conifers (not just Leylandii, there are lots of fabulous alternatives) and starting off the seed sowing process (some of the seeds require quite a bit of attention and a bit of time to get them to germinate so we have to start early in the season).
Its going to be an exciting year!!!!