Julie's post...
Posted: 11th May 2018
I'm lucky that my office overlooks the glasshouse and every morning when I come in there's something new to admire.  Different plants coming into flower, with beautiful colours, shapes and textures to shout about.  The glasshouse landscape literally changes every day, with long awaited and carefully propagated plants coming into bloom. The brighter and bolder the better.
There's a huge mix of plant variety and colour: the Syringa De Louis Spaeth in its beautiful shade of lilac, our pale yellow climbing roses, the Pieris with its flaming red leaves, 2 varieties of Weigela, the purple leaved with dark pink flowers and variegated leaved with pale pink flowers, red and yellow varieties of Grevillea (AKA Spider Flower) and not forgetting plenty of lavender and pink and white blossom.
PLANT OF THE MONTH
The Syringa is our featured plant this month with its stunning flowers, heart shaped leaves and gorgeous smell.  We've propagated a range of different colours; white, pale lilac, dark purple and stock both compact and large varieties, so there's plenty to choose from.  Even though the Syringa comes into flower in Spring, they can be known to flower through May and June.
Because of the glasshouse conditions i.e.: a consistently warm temperature and moist sandy base, our plants often come on faster than they would if they were outside, sometimes they're even 6 weeks ahead.
IDEAL CONDITIONS
Syringa thrives well in our local soil and climate and is so versatile.  It doesn't mind which aspect it faces; North, East, West or South, it likes most soil types and enjoys full sun, so don't pop it in the shade, to really flourish it loves to be exposed!
Why not visit the glasshouse and see what's coming into bloom this week!
See you soon.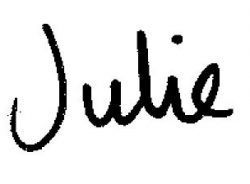 Retail Manager
Mini Bio:  Julie's domain is the glasshouse where she can be found updating, rearranging and overseeing our constantly changing array of own grown plants.  Ask one of her friendly glasshouse team for planting advice or tips. They're happy to help!